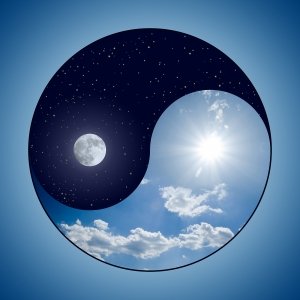 '
HIGHLIGHTS OF CELINEK'S ONLINE BOOK
Love seeks to expresses Itself in all relationships, romantic or not. Empathy, compassion and respect are Its derived motions and cannot be enforced in any way. Forcing one's will or perceptions onto a partner or lover will just aggravate conflicts, and even possibly paving the way for a breakup. The Unconditional Now will always reveal itself, if the relationship is destined to expand, that  qualities and flaws complete one another . The lacks of one is resolved by the qualities of the other – and otherwise. A pair has to be complementary but also allow Free Will to continually challenge this complementarity . This is the only way to make any relationship last. Although The term 'soul mate' is kind of distortion making one fantasizes about what is perceived as the right companion to achieve Equilibrium, very few will experience this because any relationship must exhibit polar-opposite components to be able to thrive.
Being overly preoccupied with the long-term future causes more 'left-brained' problems in the now. This Duality is inescapable. Moreover, it teaches us to follow our passions and dreams. Seeking to control romantic moods and outcomes is what causes irrational worries. Love represents an infinite creativity always occurring in the now and goes by the Natural Law of Cause and Effect, or Synchronicity. Just like for an artist or scientist meticulously working step by step and giving a daily undivided attention to their goal with their minds. Any human being can sense or feel a state of Love but many do not know how to set it into motion because of external or/and internal coercive factors.
There is no model for Love to manifest as the Unconditional Now, although there are three possibilities. The first one is 'spontaneous faithfulness or monogamy' which characterizes mates organically drawn to each other. Serial monogamy is a stretched version of it and is the most widespread trend and doesn't imply always faithfulness. The second is 'spontaneous loving' characterized by a polyamory lifestyle openly involving at least two – steady or not – relationships. And the third, 'universal loving' characterized by the choice to remain a single evolving without any kind of deep and long term bound, and which also is generally adopted by those who wish to experience long periods of time of Asceticism as their own connection to The Oneness is a constant primary drive. The word Asceticism is preferred over Abstinence as the Latter isn't always voluntary.
Excerpt of The Laws Of Light, Emotions and Sexuality (www.celinek.net, the forum is still quiet but feel free to sign up)